REV! by EntreEngage!
January 5 @ 5:30 pm

-

9:30 pm

$30.00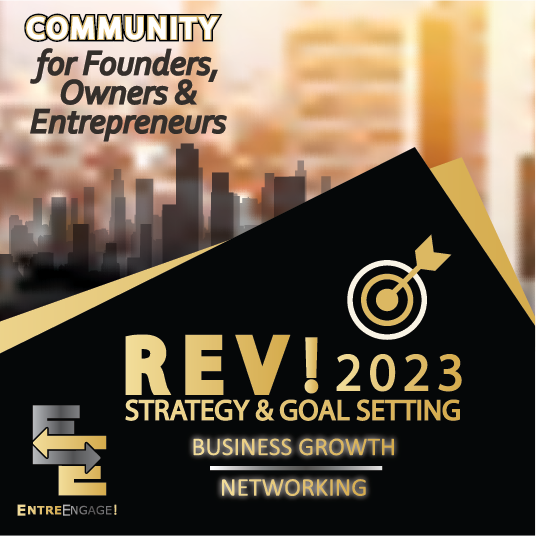 EntreEngage!: The Premier Community for Founders, Owners, and Entrepreneurs
*5:30-6:30pm Relationship Building and Snacks, Water and Coffee
6:30pm[Hard-Start] to 8pm (Round table Discussion and Strategic Planning
*8-9pm Relationship Building
• SET BUSINESS GROWTH GOALS FOR END OF YEAR AND 2023 PERFORMANCE
• PREP FOR 2023 MARKETING, AUTOMATION AND SCALING
• OVERCOME YOUR LARGEST BUSINESS PAIN POINT WITH PEER-TO-PEER GROUP MENTORSHIP
• BRAINSTORM AND DISCUSS NEW VENTURES FOR THOSE SEARCHING FOR THE NEXT OPPORTUNITY
• EXPAND YOUR LOCAL NETWORK WITH OTHER BUSINESS OWNERS AND ENTREPRENEURS
• GROUP ACCOUNTABILITY IS PROVEN TO INCREASE INDIVIDUAL GOAL PERFORMANCE.
16011 Bonaire, Huntington Beach, CA 92649 > Address will be emailed to you on your ticket once you RSVP. Check spam folder if not in your inbox.
Attire: Business Casual / Casual
Parking on south side of Edinger Street between Trinidad and Bonaire. Please no red zone parking as this is tow zone.
*Attending the mixer is not required.
If you are focused on growing a business or starting a new one, this organization may interest you. This IS a business growth focused work group to collectively share experiences and gain knowledge to scale your business.
This IS NOT a sales 💰 event or event to sell to one another, the relationship building will come naturally. 🤝 💯

Please fwd 📤 this link to any founder, owner or entrepreneur who you think would benefit from this organization. 🌏🌍🌎

>Sponsorships available please email admin@entreengage.org. Bring door prizes to donate for additional exposure.<
♟ For founders, owners and entrepreneurs. If that's you, don't miss this exclusive business community event in Huntington Beach. Join us in our peer-to-peer mentorship group and share experiences to help other owners trying to scale and learn from those who have.
💡 Set business growth goals for end of year and 2023 performance.
⏰ Plan Holiday sales activities to boost end of year sales. Prep for 2023 marketing, automation and scaling.
⚖️ Overcome your largest business pain point with peer-to-peer group mentorship.
🧠 Brainstorm and discuss new ventures for those searching for the next opportunity.
📈 Expand your local network with other business owners and entrepreneurs. Group accountability is proven to increase individual goal performance.
*We are happy to exchange tickets to another guests name as long as they are also a founder, owner or entrepreneur, but sorry, no refunds 1 week prior to event.